We specialize in turning around struggling PPC marketing campaigns.
We've managed over $82 million in ad spend, and would love to use that experience to drive sales for your business.
Remuda Ranch, an eating disorder treatment center in southern Arizona, needed Better PPC's assistance to generate a higher volume of calls for their residential 30 day teen and adult treatment programs. Prior to working together, the client had never activated a PPC campaign. They were relying on outdated methods of lead generation, and they needed someone with proven experience... Read More »
The River Source, a residential drug rehab center in southern Arizona, needed Better PPC's help in order to increase their number of monthly admissions, while lowering their cost per admission. This client had two different locations and offered services tailored towards teens, adult outpatients and adult residential 30 day programs. Because of their stellar reputation as an affordable clinic... Read More »
Testimonials
I've seen BetterPPC consistently produce immense cost savings in account after account, generating new revenue and profits for clients. Their persistent focus on performance and ROI puts them in a league of their own.
Craig is one of the best paid search strategists with whom I've ever had the pleasure of working. His clients should feel assured that they're in great hands when they work with Craig - without a doubt.
A Track Record of Success
BetterPPC has been running google ads for over 10 years specializing in phone call and lead generation.
We've worked with over 50 companies to generate leads and increase sales. We have managed over $82 million in ad spend and generated more than $324 million in sales in the process.
50% Gain in Qualified Calls in 90 Days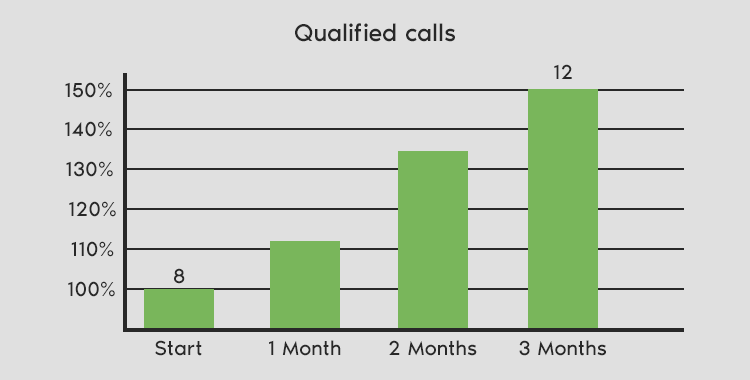 Suncoast Rehab Center, a 20-bed, non profit addiction treatment facility in Clearwater, Florida, tasked Better PPC to drive a higher volume of calls, qualified callers and admissions, while focusing on specific geographical regions and addiction treatment use cases. The client already had a well-established referral oriented sales team, an existing relationship with a public relations company and had built up... Read More »
Dr. Omar Salah, a busy doctor turned entrepreneur, asked Better PPC to generate qualified calls from prospective patients for his multilocation medical therapy practice. Prior to working together, Dr. Salah was spending too much time and money managing Google Adwords and was not getting the return to show for it. The learning curve proved to be too steep, and he discovered... Read More »
Testimonials
Better PPC and Craig have been a huge part of our organization's success. I have been an executive for close to 30 years and Better PPC has been one of those amazing business relationships you wish you had more of.
We have been working with Better PPC Management for going on 7 weeks and the number of views and conversions on our website has tripled. Over the last three weeks our sales force has been able to turn those conversions into sales, resulting in an increase of around 60%.
The 4 Magic Metrics We Optimize for Huge Savings
Move the sliders or select an example to see how small optimizations compound into large savings.
| The 4 Magic Metrics | Example 1 | Example 2 |
| --- | --- | --- |
| 1. Cost Per Click | From $10 to $9 | No Change |
| 2. Conversion Rate (Click to Call) | From 10% to 11% | From 10% to 12% |
| 3. Conversion Rate (Call to Quality Call) | From 10% to 12% | From 10% to 14% |
| 4. Close Rate (Quality Call to Sale) | No Change | From 20% to 25% |
| RESULT | 31.7% Reduction in Cost/Sale | 52.6% Reduction in Cost/Sale |
The 4 Magic Metrics
2. Conversion Rate (Click to Call):

10

%
3. Conversion Rate (Call to Quality Call):

10

%
4. Close Rate (Quality Call to Sale):

20

%
Cost Per Call:
$100
Cost Per Quality Call:
$1000
Cost Per Admit:
$5000
Still not convinced? See what sets us apart
Scientific Keyword Evaluation – Our Formula to Success
See Our Formula